KYOTANABE
Kyotanabe Campus
Offering an ideal learning environment, which engenders the feeling of Doshisha's new beginning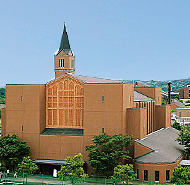 This campus was established in Kyotanabe (southern Kyoto Prefecture) in 1986.
On the vast campus, which covers 790,000 square meters, are modern school buildings equipped with advanced experimental and educational facilities. Their exterior walls are uniformly covered with brick tiles, which enable them to exist in harmony with the beautiful surrounding scenery. The campus houses the Learned Memorial Library incorporating a multi-media library, as well as a building for the Faculty of Science and Engineering equipped with experimental facilities which are still rare in Japan, such as an NMR room, a clearn room and an anechoic room.
In addition, the Doshisha Rohm Plaza and the Information and Media Building were opend in October, 2003 on the same campus. About 9,000 students are now studying on this campus.
Address
1-3 Tatara Miyakodani, Kyotanabe-shi, Kyoto-fu 610-0394
Telephone : +81-774-65-7010 (Section for General Affairs, Kyotanabe Campus)
Campus map
Shinseikan
Athletic House 1
Athletic House 2
Sports Club Headquarters
Banjokan Building
Davis Memorial Auditorium
Keikikan
Kokikan
Hochikan
Shionkan
Seishinkan
All Purpose Auditorium
Nichiryokan
Chishinkan3
Kyotanabe Student Union
Chishinkan2 Historical Museum
Student Health Center
Chishinkan1
Shigyokan
Korinkan
Neesima Memorial Auditorium
Doshisha Rohm Memorial Hall
IT & Media Center
Mukokukan
Chishokan (North Building)
Chishokan (South Building)
KOTOBA-KAN
HIKARI-KAN
Kohakukan
Learned Memorial Library
Shoshinkan
Keidokan
Sokokan
Science Building (Rikagakukan)
Hoshinkan
Kochikan
Yutokukan(East Building)
Yutokukan(West Building)
Chigenkan
Shishinkan
Chomeikan
Ishinkan
Gyoseikan (D-egg)
Glider hangar
Softball Ground
Tennis courts
Volleyball courts
Semi-hard Baseball Ground
Automobile Practice Area
Swimming pool
American Football Ground
Soccer Ground
Climbing center
Dining Hall for Athletic Area
Japanese Archery Ground
Shower stall
Inline skates Ground
Hockey Ground
Baseball Ground
Gymnasium
Golf Ground
Firing Range
Archery Ground
Rugby Field
Athletic Field
Riding Ground
Ryoshinhi
Training Plant Annex
Kaifu-Kan
Campus map (PDF)
For printing, please download the following PDF file.
Doshisha University Kyotanabe Campus[PDF 2.4MB]
Campus map (PNG)
Doshisha University Kyotanabe Campus