Student Exchange Program
Doshisha University welcomes exchange students from partner universities around the world.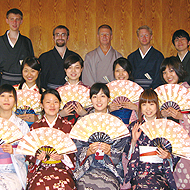 Exchange students from overseas partner universities studying at Doshisha's Center for Japanese Language and Culture are known as 'Nichibun-sei'. Nichibun-sei can take any of the subjects offered by the Center and, along with regular students, have access to all campus facilities. Students with a sufficient level of Japanese proficiency can also take regular subjects at the undergraduate and graduate level alongside the Japanese language and culture courses offered at the Center. Language proficiency will be determined by a test following admission.