Undergraduate and Graduate Programs [Studying in the Japanese language]
Offering undergraduate and graduate degree programs in which international students can enroll and study with Japanese students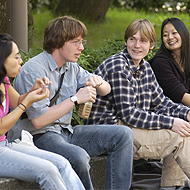 Established in 1875, Doshisha University is one of the most prestigious private universities in Japan, offering a world-class education with undergraduate programs in 14 faculties, graduate programs in 16 graduate schools (including independent professional graduate schools), and programs for international students at the Center for Japanese Language and Culture. About 29,000 students are currently studying in these institutions.
As a member university of the Japanese government's Global 30 project for 'establishing core universities for internationalization', Doshisha is striving to further strengthen the educational environment for international students by, for example, setting up degree courses with all classes conducted in English, and creating innovative faculties and institutes oriented toward 'internationalism', which has been one of Doshisha's educational ideals since its inception.
Drawing upon its long standing history and tradition of higher education, and taking advantage of the location of Kyoto-Japan's ancient capital with a rich tradition of art and culture- Doshisha University offers international students an excellent learning environment in which they can achieve academic and personal growth together with fellow students from Japan and overseas. The experience as a member of the Doshisha community will be a lifelong asset for all students regardless of the path they choose to take following graduation.