Extracurricular Activities (Clubs and Circles)
Students participate in about 400 club and circle activities.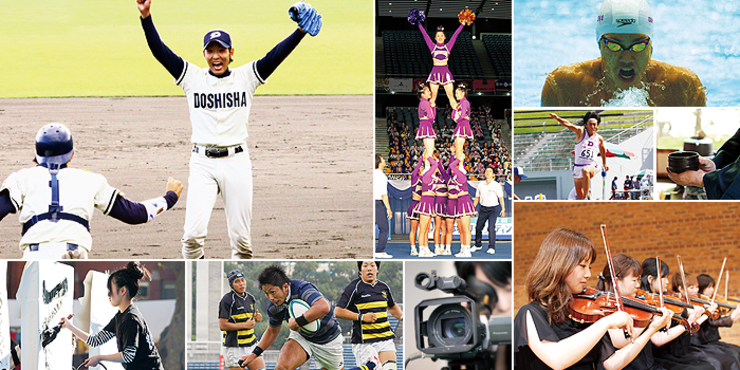 Being a student is one of the most important and memorable experiences of a person's life. In addition to academic pursuits, extracurricular activities make up a valuable part of the overall university experience. Students can develop their social and interpersonal skills by getting involved in running organizations. This will help to improve their teamwork skills, and ability to build meaningful relationship with friends and peers, as well as with junior and senior students. Responsibility, good judgment and endurance can also be developed during such activities.
At Doshisha University, there are about 170 official extracurricular activity groups and 240 groups registered with the Student Support Services Center in a wide range of areas including arts, sports and culture. The groups range from those with a long tradition at the university to those more connected with contemporary culture, and all are run by the students themselves. The university supports these activities within the scope of nurturing individuals with the spirit of autonomy and self-reliance. Both the Imadegawa and Kyotanabe campuses house various facilities related to many of the extracurricular activities.
Extracurricular Activities- Website 'D-Live'
Extracurricular Activities- Website 'D-Live'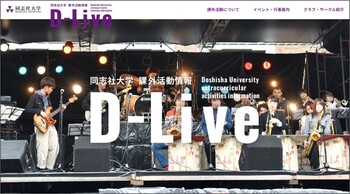 D-Live keeps students up to date on what's happening on campus outside the classroom,
featuring a wide range of activities of student clubs and circles, such as recent results and upcoming games of sports groups, event schedules of music groups and research presentations of academic groups. Students can also find information on extracurricular programs organized by the Student Support Services Center, as well as movies, plays and concerts offered on campus.
List of the extracurricular activity groups (officially approved)
Cultural group
(19 categories)
No. of club
1
Art
5
2
Cheering supporters
4
3
Chorus
6
4
Christian association
3
5
Cultural 1
6
6
Cultural 2
7
7
Drama
5
8
Human science study
7
9
Image
4
10
International study
8
11
Light music
8
12
Media
5
13
Musical instrument
4
14
Natural science study
6
15
Photography
4
16
Social science study
5
17
Student multimedia
1
18
Traditional culture
3
19
Traditional performing arts
6
97 clubs
Sports group
(4 categories)
No. of club
1
Indoor sports
10
2
Outdoor sports
7
3
Mountain climbing
5
4
Off-campus sports
6
28 clubs
Varsity Sports Teams
Head Office
Sports Atom Editorial Office
Aikido
Alpine
American football
Archery
Athletics
Automobile
Aviation
Badminton
Baseball
Basketball
Bicycle race
Board sailing
Boating
Bowling
Boxing
Canoeing
Fencing

Field hockey
Figure skating
Golf
Gymnastics
Handball
Horseback riding
Iaido
Ice hockey
Judo
Karate
Kendo
Kyudo
Lacrosse
Nippon Kempo
Rifle shooting
Rubber baseball
Rugby

Semi-hard baseball
Shorinji Kempo
Skiing
Soccer
Soft tennis
Softball
Speed skating
Sumo
Swimming
Table tennis
Tennis
Triathlon
Volleyball
Wandervogel
Wrestling
Yacht