以下、本文になります
Spotlights
[Research News] Study Reveals Novel Therapeutic Target to Eliminate Unwanted and Misfolded Proteins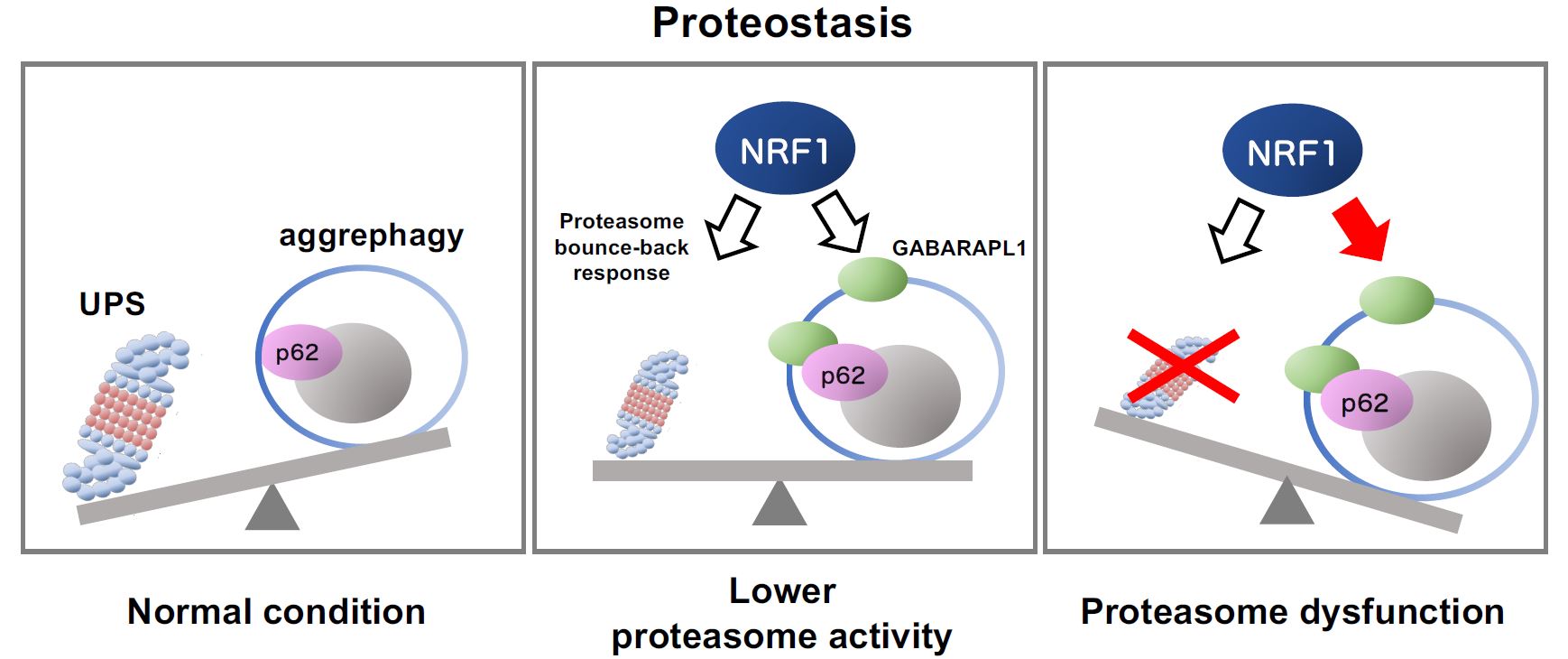 Atsushi Hatanaka, a graduate student, and Akira Kobayashi, a professor, both from the Laboratory for Genetic Code, Graduate School of Life and Medical Sciences, and their research team discovered the hidden mechanism of "aggrephagy," with major implications for degenerative protein diseases.
In cells, the ubiquitin‒proteasome system (UPS) plays a key role in the elimination of unwanted or misfolded proteins. When UPS fails, cells activate a backup process called "aggrephagy" for clearing ubiquitin-tagged proteins. However, the associated mechanism behind this process remains unknown. Recently, Hatanaka, Kobayashi, and their colleagues have demonstrated how another protein called NRF1 facilitates aggrephagy, thereby providing new therapeutic targets for diseases resulting from misfolded proteins.
These findings pave the way toward developing novel therapeutics for degenerative diseases such as Alzheimer's disease, Parkinson's disease, and dementia with Lewy bodies.

Reference
Hatanaka A., Nakada S., Matsumoto G., Satoh K., Aketa I., Watanabe A., Hirakawa T., Tsujita T., Waku T., Kobayashi A. The transcription factor NRF1 (NFE2L1) activates aggrephagy by inducing p62 and GABARAPL1 after proteasome inhibition to maintain proteostasis (2023) Scientific Reports, 13 (1), art. no. 14405
DOI: 10.1038/s41598-023-41492-9

For more details, please see the website of Organization for Research Initiatives and Development, Doshisha University.
Research News: Study Reveals Novel Therapeutic Target to Eliminate Unwanted and Misfolded Proteins

This achievement has also been featured in the "EurekAlert!."
NEWS RELEASE 4-OCT-2023 Study Reveals Novel Therapeutic Target to Eliminate Unwanted and Misfolded Proteins

Image Credit: Atsushi Hatanaka, Sota Nakada, Gen Matsumoto, Katsuya Satoh, Iori Aketa, Akira Watanabe, Tomoaki Hirakawa, Tadayuki Tsujita, Tsuyoshi Waku, and Akira Kobayashi
License type: CC BY 4.0