Center for Japanese Language and Culture
Center for Japanese Language and Culture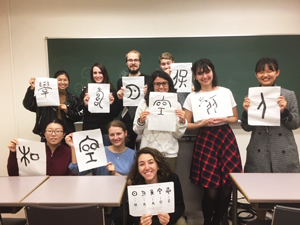 Doshisha University Center for Japanese Language and Culture (Nichibun Center) offers a rich diversity of Japanese language and culture courses to all international students studying at Doshisha University. The center acts to support Doshisha's international education and research by creating and providing well-designed and enriching classes in Japanese language and culture. At the same time, in order to introduce Japanese language and culture to the world, the center offers various courses to Japanese students who intend to engage in international exchange activities organized by Doshisha University. The center provides support for international students who wish to study at the centers of Doshisha's 4 overseas partner universities, each of which has a base for Japanese language and culture studies at Doshisha University.
Japanese language and culture subjects
The Nichibun Center offers carefully designed Japanese language subjects with nine different levels according to students' Japanese proficiency. Taking advantage of the university's location in Kyoto, the center also offers many high-quality Japanese studies subjects in which students can acquire a real and first-hand understanding of Japan and Kyoto through lectures by world-renowned intellectuals, fieldwork and on-site training. International studies subjects that help students acquire international and multiple views of religion, history, business and media, as well as Japanese and English language training subjects, are also offered. International students who enroll in faculties and graduate schools are able to strengthen their Japanese language skills by taking Japanese language and culture education subjects offered by the Nichibun Center. Exchange students from overseas partner universities, as well as students who enroll in study abroad programs at research centers whose Japanese studies base is located at Doshisha, are able to take any of the subjects offered by the Nichibun Center as a Nichibunsei (student of the Center for Japanese Language and Culture), and enjoy full access to the facilities of Doshisha University alongside regular students. Nichibunsei whose Japanese proficiency is deemed to be of a high enough level following the post-admission placement test can take regular subjects offered by the faculties and graduate schools.