IMADEGAWA
Imadegawa Campus
Having passed down 147 years of history and tradition of Doshisha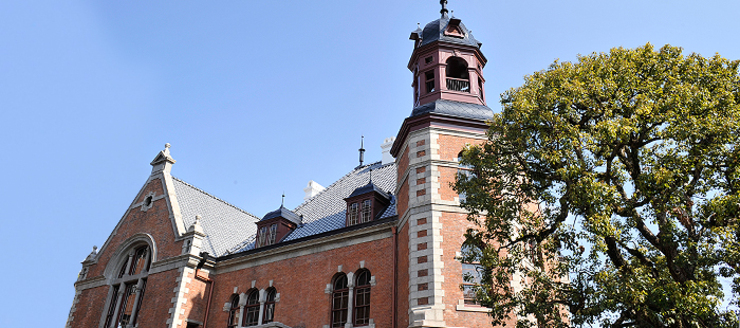 The Imadegawa campus is located on the site where Doshisha was founded 147 years ago. The camupus building of the Meiji era, such as the Doshisha Chapel, Shoeikan, Yushukan, Harris Science Hall, and Clarke Memorial Hall are designated as cultural properties of national importance, keeping in harmony with the modern buildings on the campus constructed in the Taisho and early Showa era.
These buildings stand as a living museum, a testament to the history and development of university education in Japan through the years from the Meiji era to the present day.
About 20,000 students are now studying on this campus, which has a total area of 97,000 square meters.
Address
Karasuma-higashi-iru, Imadegawa-dori, Kamigyo-ku,
Kyoto-shi
Access to the Imadegawa Campus
※Please address all inquiries and correspondence to the Imadegawa Campus.
Imadegawa Campus : Karasuma-higashi-iru, Imadegawa-dori, Kamigyo-ku,
Kyoto-shi 602-8580
Telephone : +81-75-251-3120 (Department of Public Relations)
Campus Map
Amherst House [Registered Tangible Cultural Property]
Guest House
Koenkan
Keimeikan [Registered Tangible Cultural Property]
Repository Of Neesima Memorabilia
Taishinkan
Divinity Hall
Chienkan (Under Reconstruction)
Yushukan [Important Cultural Property]
Kofukan
Meitokukan
Tokushokan
Library
Clarke Memorial Hall [Important Cultural Property]
Shiseikan
Fusokan
Harris Science Hall [Important Cultural Property]
Doshisha Chapel [Important Cultural Property]
Shoeikan [Important Cultural Property]
Shingikan
Neiseikan
Hakuenkan
Ryoshinkan
Kambaiken
Ryoshinhi
Poetic Tablets Yun Dongju
Poetic Tablets Chong Chiyong
Campus Map (PDF)
For printing, please download the following PDF file.
Doshisha University Imadegawa Campus[PDF 2.4MB]
Campus Map (JPG)
Doshisha University Imadegawa Campus